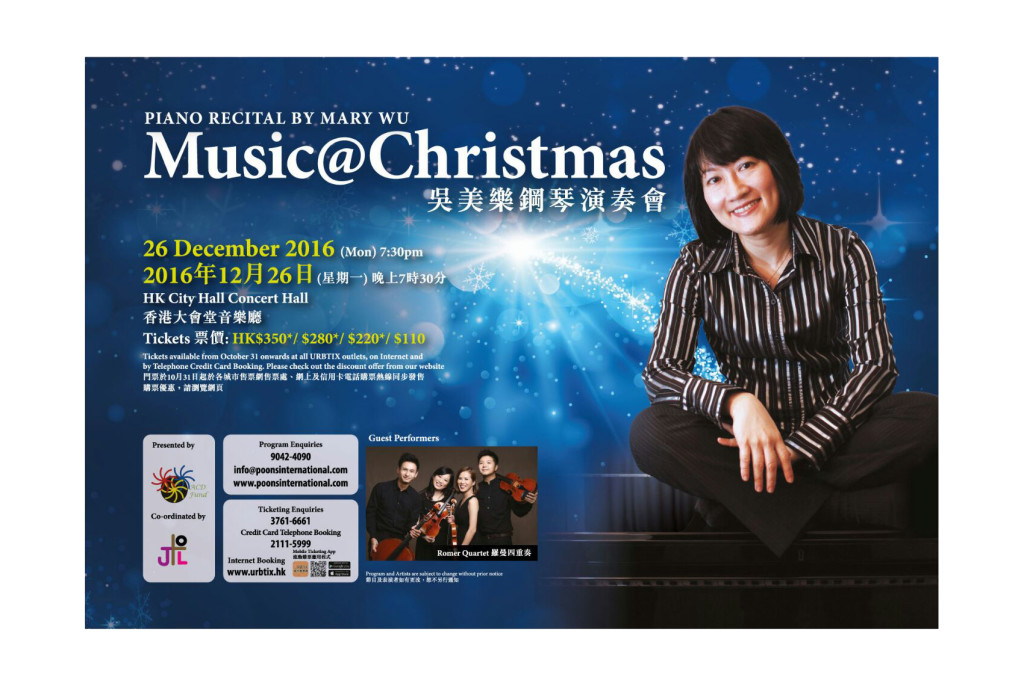 Date: Dec 26, 2016 (Boxing Day)
Time: 7:30pm
Venue: HK City Hall Concert Hall
Tickets: HK$350/$280/$220/$110
Guest appearance: Romer String Quartet
Programme includes:
M. Reger Weihnachtstraum from Op.17 No.9
J.S. Bach / W. Kempff Largo from F minor Keyboard Concerto, BWV 1056
Wanghua Chu (儲望華) Variations on "Twinkle Twinkle Little Star"
J. Brahms 7 Fantasien, Op.116
S. Prokofiev Piano Sonata No.3, Op.28
W.A.Mozart Piano concerto in d minor, K466 (Piano and String Quartet version arr. Lachner)
E. Granados "Los Requiebros" from Goyescas
雷格:《聖誕之夢》, 作品17, 第9號
巴哈/肯普夫:F小調鍵盤協奏曲, 廣板, BWV 1056
儲望華:《小星星主题变奏曲》
布拉姆斯:幻想曲, 作品116
普羅高菲夫:第3號鋼琴奏鳴曲
莫扎特:第20號D小調鋼琴協奏曲, K. 466*
(*鋼琴及樂隊伴奏譜由拉赫納改編)
葛拉納多斯:自《哥雅之畫》的「情人的話」
*Discount Offer is available for all ticket besides the ticket at HK$110 and patrons can enjoy only one of the following offers:
Half-price tickets are available for senior citizens aged over 60, people with disabilities, and minder, full-time students with quota (Extra offer: Purchase 20 or more student tickets can enjoy extra 5% off. )
20%off tickets are available for Music for life members, HK Piano/Electone Teachers' Circle members, Hong Kong Music Tutors Union members and Friends of Radio 4 members for purchasing the standard price.
Group tickets discount: 10%off for each purchase of 2-3 standard tickets; 15% off for 4-9 standard tickets; 20% off for 10 or more standard tickets.
*以下購票優惠不適用於HK$110之門票,並只可享以下其一﹕
60歲以上高齡、殘疾人士及看護人、全日制學生可享半價優惠,額滿即止
通利琴行Music for life會員、香港鋼琴/電子琴教師協會會員、香港音樂導師同盟會員及第四台之友會員可享八折優惠
每次購買正價門票2-3張可獲九折優惠﹔4-9張可獲八五折優惠﹔10張或以上可獲八折優惠