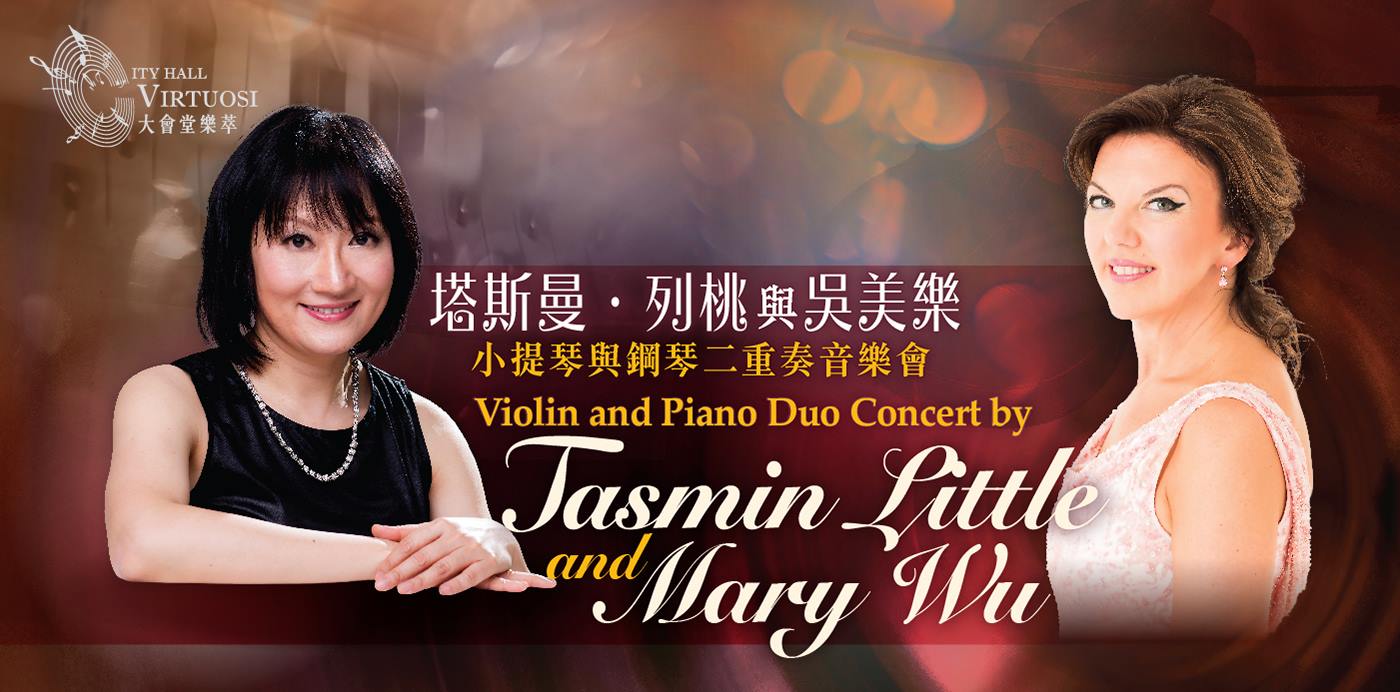 Date: 25.06.2017 (Sun)
Time: 8pm
Venue: HK City Hall Concert Hall
Tickets: $300, $200, $120
**************************************************************
Programme
Brahms – Scherzo in C Minor for Violin and Piano (from F-A-E Sonata)
Schubert – Sonatina in D for Violin and Piano, D. 384
Debussy – L'isle joyeuse, L. 106
Delius – Violin Sonata No. 2
Albéniz (arr. Jennings & Little) – Leyenda (from Suite Española, Op. 47)
Franck – Sonata in A for Violin and Piano, Op. 162
**************************************************************
"City Hall Virtuosi Series: Violin and Piano Duo Concert by Tasmin Little and Mary Wu" will be presented by the Leisure and Cultural Services Department to delight Hong Kong music lovers in June.
The programme will feature Brahms' "Scherzo in C Minor" (from "F.A.E. Sonata"), Schubert's "Sonatina in D, Op. 137, No. 1, D384″, Debussy's "L'isle joyeuse", Delius' "Sonata No. 2″, Albéniz's "Leyenda" (from "Suite Española, Op. 47″) (arranged by Jennings and Little) and Franck's "Sonata in A, Op. 162″.
Tasmin Little has performed in some of the most prestigious venues of the world. Her concerto appearances include those with the Berliner Philharmoniker, the Bournemouth Symphony, the City of Birmingham Symphony Orchestra, the Hong Kong Philharmonic Orchestra, the Leipzig Gewandhaus Orchestra, the London Symphony Orchestra, the New York Philharmonic, the Royal Philharmonic Orchestra and all the BBC Orchestras. Little's varied career encompasses international concerto and recital performances, master classes, workshops and community outreach work as well as numerous world premiere performances.
Mary Wu was hailed as "one of the most gifted pianists of her generation" for her "musical variety, profundity and sensitivity" by the late Vlado Perlemuter, and was also praised by the late Yehudi Menuhin as having "a captivating poetical quality to her playing". Wu has performed extensively in Europe, Asia and North America, including performances with Lord Menuhin in the United Kingdom and Germany, and in festivals including the Hong Kong Arts Festival, the Singapore Arts Festival, the Macau Arts Festival, the Hell Hot New Music Festival in Hong Kong and the Ibiza Festival in Spain.
"City Hall Virtuosi Series: Violin and Piano Duo Concert by Tasmin Little and Mary Wu" will be held at 8pm on June 25 (Sunday) at the Concert Hall of Hong Kong City Hall. Tickets priced at $120, $200 and $300 are now available at URBTIX (www.urbtix.hk). For telephone credit card bookings, please call 2111 5999. For programme enquiries and concessionary schemes, please call 2268 7321 or
visit www.lcsd.gov.hk/CE/CulturalService/Programme/en/music/programs_233.html.